Behind the Lights: The Hilton Canopy Hotel Lighting Design
With lighting design, it's so easy to see only the final piece and marvel at its beauty. But like all works of art, there is an incredible process before the final reveal. To give you a first-hand view into the process of one of our latest projects, the Hilton Canopy Hotel in San Antonio, TX, here is a Q&A session with our very own Scott Oldner.
An Interview with Scott Oldner, Lighting Designer and Owner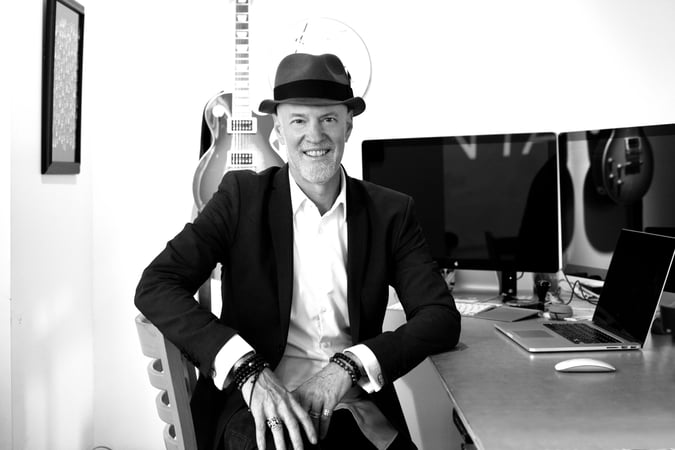 Q: What were your client's lighting goals for this project?
Knowing the architectural background of our customer, I sensed that he wanted an almost 5-star experience from a 4-star brand. What he needed was a unique piece of architecture with a groovy, modern style that would set the hotel apart from the others on the Riverwalk. Even though it wasn't explicitly communicated, he wanted an experience. An experience that would leave the guests grateful for a very high-end feel but not at a very high-end price. His choice of the design team revealed his architectural savvy and taste with the selection of Gensler, Lake Flato and Marc Zeff Design. His restaurant next door to the hotel has a Texas chic vibe—that was a clue into his mind and his taste.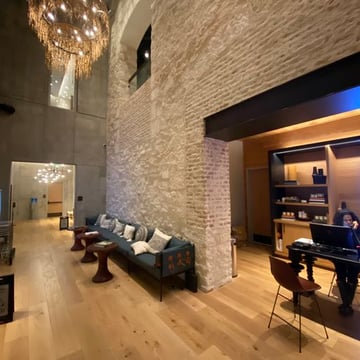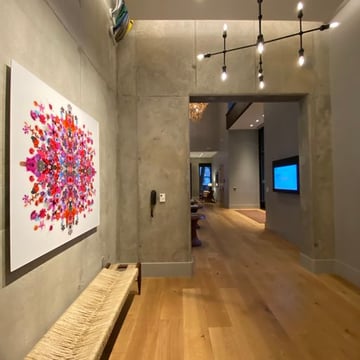 Q: What was your most unexpected challenge?
The dots on the side of the building that can blink on and off like stars were a major challenge to implement given the owner's budget and installation challenges. The solution fixture was less costly but created an installation aesthetic that wasn't pleasing in the daytime due to how it was recommended to be wired (it stuck out from the wall an extra 6".) That additional armature was unsightly and took months to wrangle the manufacturer and contractor in, and to negotiate their objections. In the end, a creative mounting method was devised to lower the profile and keep the concept without it being a place where pigeons would perch [and poop—believe you me, they are all over the Riverwalk area.]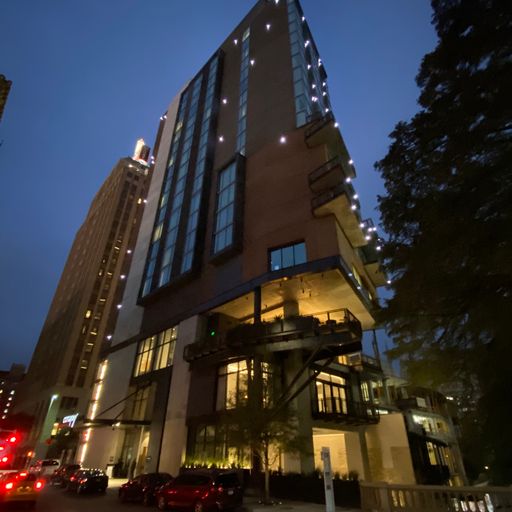 Q: What was your most unexpected delight?
Every floor has striking artwork and an extra groovy factor that is better than most. Artwork is the most important design element to light correctly. There are many ways to light artwork and not just one right way. The method chosen depends on many factors like ceiling type, other design elements in the field of view, and geometry between the wall and the ceiling [more on this in a future post all about artwork.] In this environment, most art was accented with surface or pendant mounted adjustable fixtures outfitted with the correct beam spread.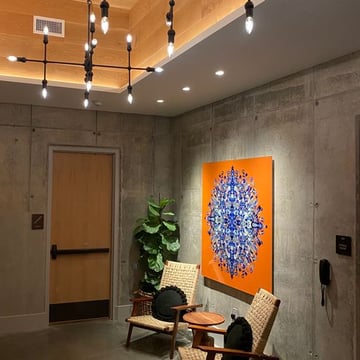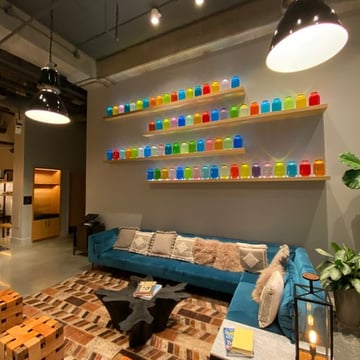 Q: What is your favorite detail?
The surprise effect in the restaurant restroom corridor is so unexpected and different from any other restroom corridor. You feel like you might be getting scanned as you pass through the bands of light.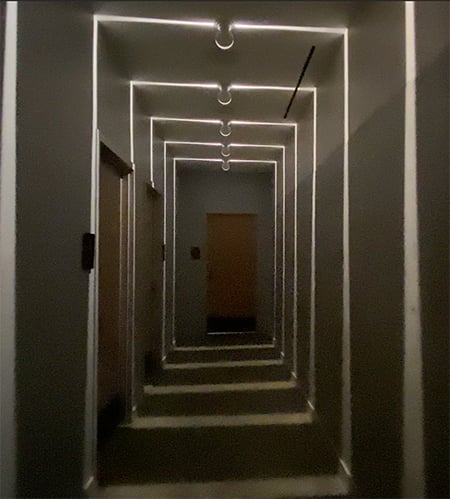 Q: What delighted your client the most?
The color-changing dots on the exterior of the building, which look like the famous, multi-colored string lights that hang in all the Riverwalk trees from Thanksgiving to New Year's Day. He also loved the restroom corridor and the punch of light on the artwork on each floor.
"Those unexpected moments of experience are always a joy and the reason why I love Oldner Lighting. They are tenacious and creative and provide that extra creativity and effort to ensure a top-quality visual"
- Chris Hill, Hill Associates - Owner
Every client has goals and a vision for their project, and we help bring that vision to life. See how working with a lighting designer can help elevate your client's next project.