Oldner Lighting Design: Our 2021 in Review
What an incredible year of lighting design and helping our clients bring their vision to life! Each of our projects always has a unique take on architectural style, atmospheric mood, and geographic inspiration.
Here are just some of our favorites from 2021 --
Hilton Canopy San Antonio
Nestled among the trees on the Riverwalk, you'll find this stunning gem—complete with quintessentially Texan architectural and design choices that make for a contemporary Southern-chic getaway. The cozy ambiance paired with unexpected lighting details leave guests enchanted with the many surprise-and-delight design elements.

Hilton Canopy Scottsdale
This contemporary desert hotel with clean, modern lines is the perfect retreat for experiencing beautiful mountain views. The lighting truly captures the retreat-style ambiance, setting the stage as an ideal place to unwind.
Sunport Airport (ticketing, baggage, arrivals, departures)
This airport is such a unique piece of architecture! The addition of brightly colored lighting brings a sense of modern energy to the airport's more traditional, indigenous pueblo style.
West Coast University DFW
The renovation of this medical training facility is a beautiful contemporary style with clean-lined interiors and a dramatic atrium space. The 45-foot-tall growing wall is a showstopper – further brought to life with elegant lighting that makes it a stunning focal point. This project is a classic example of a functional space being transformed into a work of art.
The Hamilton (Epic) Multi-Family Residence
This ground-up building found in the Dallas neighborhood of Deep Ellum fits Deep Ellum's funky, unique scene. A beautiful nod to the area, unconventionally colored lights and their unexpected placement uniquely feature the eclectic interior design.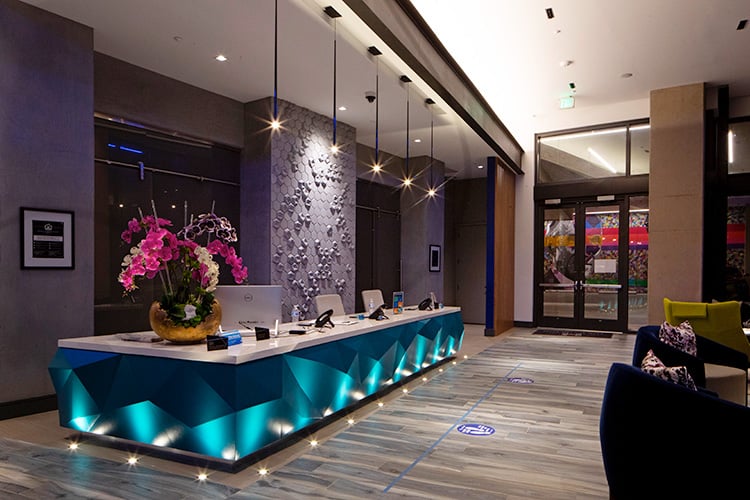 What projects are you dreaming up in 2022? At Oldner Lighting, we're here to help you bring your project, and vision, to life! Contact us for more information.